Boating Safety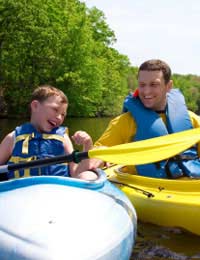 It is important to be prepared for any trip on the water, whether with the appropriate items, necessary skills and experience of the crew or with safety of the boat itself.
Awareness of Crew and Vessel Limitations
Before any trip on the water, it is worth considering the skills and abilities of the crew and limitations of the craft and making sure they are sufficient for the planned adventure ahead. This is particularly important when sailing at sea, where help and dry land are not as close to hand.
Warm and protective clothing, including sunglasses, is essential for any boating activity in the open air as are floatation devices.
Floatation Devices
There are two main types of floatation device – buoyancy aids and life-jackets. A buoyancy aid is designed to keep the user afloat whilst they engage in a lively sporting activity whereas a life-jacket is an emergency device intended to save its wearer from drowning. Its buoyancy distribution is sufficient to turn the user to a position where their mouth is clear of the water regardless of whether they are conscious or not.
In the more active boating pursuits such as dinghy sailing, canoeing and kayaking a buoyancy aid is more appropriate whereas a life-jacket is suitable for motorised craft and large yachts.
Man Overboard
It is now standard practise to know what to do in a 'man overboard' situation. Recent statistics show that approximately 67% of Emergency Services launches for man overboard incidents are for pleasure crafts.
The Royal Yachting Association (RYA) includes basic man overboard procedures as part of its boating courses. This not only includes instruction on what to do if passengers fall overboard but, more importantly, how to prevent the situation happening in the first place – a crew might be well drilled but this does not alter the fact that man overboard incidents on the sea at night or in bad weather rarely end in rescue.
Boat Safety Certificate
The Boat Safety Scheme (BSS) is like a boating version of a car MOT test, only much more comprehensive. A boat with electrical, gas or fuel systems must first pass the programme and be awarded a Boat Safety Certificate before being eligible for a cruising licence and passage down UK inland waterways.
The scheme sets standards for boats, including essential safety requirements and advice, as well as criteria for electrical installations, engines, appliances, ventilation and fuels. The programme is designed to minimise the risks of accidents including on-board fires or explosions.
If a boat is new or been built within the last couple of years it may not have a Boat Safety Certificate but instead a document called a 'Declaration of Conformity'. This can be used in the same way as it means that the boat has been built to standards in the European Recreational Craft Directive.
The certificate lasts for four years, at which point a new examination will need to take place. The scheme applies to all motorised boats using British Waterways and Environment Agency waterways. At present the Broads Authority has yet to introduce such a scheme.
Safety Courses and Literature
It is recommended that before undertaking any boating activity due care and attention is paid to safety advice and emergency procedures. RYA approved courses should include safety advice and demonstrations and appropriate literature is also widely available. The Royal National Lifeboat Institution (RNLI), for instance, offer a free publication entitled 'Emergency Procedures for Pleasure Craft'.
The greatest asset for the safety of any vessel is the skills and experience of the crew. If a sailor has been well trained and educated in the dangers and regulations of seas and waterways and confident in how to look after their crew and vessel then there is little reason to worry about safety on the water.
You might also like...
... "are for pleasure crafts" ==================== the usual plural for "craft" is... "craft".
morrisonman
- 6-May-13 @ 6:05 PM