Emergencies on Board: Leaks and Fires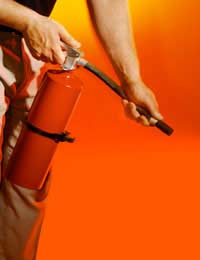 Being out on the water offers an amazing sense of freedom from the land and its inhabitants, but the pay off is a great vulnerability if anything goes wrong. The two emergencies that cause the most concern amongst boaters are leaks and fires. But simply being prepared for such eventualities can prevent those liberties from being jeopardised.
Springing a Leak
Sinking is a very rare occasion for any well-maintained and responsibly skippered craft, but leaks are not.
Many recreational boats - including powerboats under 20 feet - are equipped with full foam flotation that is designed to keep the boat upright in the event of the hull getting a hole in it. This gives the crew time to either head for shore or take some decisive action.
Bilge Pumps
Either way, if a boat is leaking in gallons of water faster than you can get it out, then you need some non-human assistance. A bilge pump offers a relatively inexpensive insurance against leakages. It can be fitted to an automatic float switch that starts up the pump automatically as soon as a few inches of water collects in the bilge.
Most leaks aboard fibreglass and aluminum vessels are the result of malfunctioning from hull fittings or hoses, and a bilge pump will adequately be able to deal with such damage. Nevertheless, it is still worth keeping some rubber stops onboard so that your fittings can be plugged if something happens to the valve or hose.
Big Leak
What a bilge pump might struggle to contend with alone would be if your vessel were to strike a submerged object such as a rock - or an iceberg. If the water starts gushing in then you might need to carry out some emergency hull repairs.
Filling the hull with any soft and bulky items – such as life jackets, t-shirts, towels and cushions - is the most practical temporary solution. Although they won't stem the problem, they will ease the workload of the bilge pump.
Hopefully this should be enough to maintain buoyancy until you reach a dock. If it's not then head for the nearest beach or shoreline, or if that's too far, then radio for assistance.
Fire in the Hold!
Many people don't think of fires as a big danger to a recreation that is centred on water. However, although rare, fires afloat are very real and can be very frightening. At worst a fire can mean abandoning ship and watching from the water as your pride and joy curls up into a smoldering ruin.
Most boats containing fire risk equipment – such as an engine or electrical equipment - require a fire extinguisher on board. However, a typical extinguisher only has a discharge of around thirty seconds and so if it is not used on the base of the fire when it is in an early stage then it will be rendered useless.
If possible, the boat should be turned so that the fire blows off the vessel. This means the wind won't help the spread of the fire and will aid efforts to put out the fire independently, or at least stop them getting worse.
If a fire breaks out near fuel lines or the fuel tank then it is time to abandon ship. It is not worth the risk trying to extinguish such a fire, as an explosion will be imminent.
You might also like...