Navigation Onboard Your Boat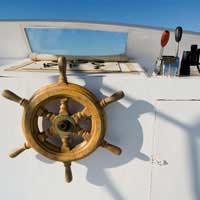 Out on the open sea there are no road signs, few identifiable landmarks and even fewer helpful strangers on hand to point the way, instead a boater must instead rely on navigation to find their way across the waves.
Maritime Charts
Maritime charts are the road maps of the waterways albeit, given the featureless carpet expanse of the sea, one that displays features not visible to the naked eye, such as:
Water depth
Location and description of navigational markers
Longitude and latitude lines
Shapes of land masses
The chart shows boaters where all the hazards, landmarks and markers are located and the safe passages are all clearly shown. The art of reading the chart is being able to translate what one can see on the chart to the featureless waters around the vessel. All boaters embarking on even the most modest journey out to sea would be strongly advised to not only have maritime chart to hand, but be able to use it effectively too.
Latitudes and Longitudes
Along the edges of the chart are the latitude and longitude lines, horizontal and vertical respectively. The intersections where these lines meet allow one to give a particular coordinate for any point on the globe that can be recognised by anybody else in the world, which in effect means that if someone knows their location coordinates then they are never lost.
Water Colours
Aside from their eye-catching appeal, maritime charts are printed in colour to convey important navigational information such as depth and danger zones. A light blue colour, for instance, indicates the water is between 1 and 3 fathoms in depth and therefore offers safe passage for most boats apart from large yachts and keeled sailboats and a magenta colour shows up danger zones.
Digital Navigation
Modern technology means that voyages can now be planned in advance with the aid of computer and electronic charting software. This allows skippers to lay out a course, determine necessary cruising times, work out how much fuel is needed and then print it all out onto paper, making a perfect portable travelling companion and stress reliever.
GPS
GPS, or Global Positioning Systems, is a handy electronic navigation tool that picks up satellite signals to locate any point on the globe to within a few metres. It has quickly become the fancy gizmo of choice for flash car drivers with too much money, but this obscures a genuinely useful piece of equipment, particularly for sea travellers.
GPS units are available in a handheld sizr, which are lightweight, accurate and easy to carry from boat to boat to car. They are remarkably easy to use and just involve punching in a desired destination and then allowing the gadget to guide the way, giving constant updates on course, speed, distance left to go.
The ultimate navigational tool is a system that combines all these elements – the charts, software and GPS – into one machine, relieving the skipper of most of their navigational skills.
No Direction Home
Modern navigation systems may be very sophisticated but they are doomed to fail at some inopportune moment and so always necessitate a back-up. A skipper should at least always be in possession of the one truly indispensable and unfailing navigational tool, the compass. The compass may be just a small magnet suspended on a pivot point but that wonder tool will always be able to get a boat back to land.
Ultimately electronic navigation is a luxury for those puttering around lakes, rivers and coastlines but a necessity for anyone boating away from land. It is to date the easiest and most reliable way of keeping track of ones location.
Navigation Courses
For those that don't want to put all their faith in electronic gadgetry, the Royal Yachting Association (RYA) has devised a special two day basic introduction to navigation course, which is taught at boating centres across the UK, and ideal for those new to boating who want to pick up some essential skippering skills. More experienced navigators can sign up for the more advanced RYA skippering courses, which touch on subjects like meteorology, collision avoidance and passage planning.
You might also like...