Docking and Mooring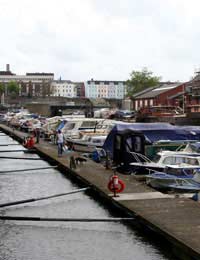 Docking and mooring is not a difficult art to master, but getting to that point can be an unnerving and embarrassing experience, especially with more experienced dockers smugly watching over the learning process.
Docking Practice
When people learn to drive it is common to practice manoeuvres in empty and expansive locations such as industrial estates, enabling the learner can concentrate on the movements without any unnecessary distractions. The same concept can be applied to docking. Learners should not begin at a busy harbour but instead find a quiet location where the forces of tide and wind and amused onlooker are minimal. Here novices can practice the basics manoeuvres and master the vessel's unusual movement characteristics relatively in relative calm.
Planning a Dock
A big bonus for skippers learning the ropes of docking is that their maritime hobby is a traditionally slow and leisurely one. There is therefore no need to panic and rush into the process of docking. Instead one should firstly plan the movement, looking over the situation and taking note of all the affecting factors, such as whether the tide is high or low, what the wind direction is, whether there is any current, other boat traffic, or a necessity for tight squeezing, and then decide on a plan of attack.
In general, for example, if possible it is best to work into the wind. This gives the driver a natural brake if the manoeuvre does not line up as planned. Going along with a strong wind can cause extra difficulties because the boat will move towards the dock and other boats when the driver does not want it.
Slow Parking
As leisurely pursuit there is therefore no need discernible reason to dock at any other speed other than dead slow. There is always a danger that things can go wrong if docking any faster, and in harbour with many vulnerable and expensive boats on show it is not worth the risk. It is not so uncommon for an engine to cut out when a driver is counting on it to brake the hull. A good idea is to put the vessel into reverse briefly when a fair distance out, so as to slow momentum and ensure the motor doesn't die when it's most needed.
Although named a bumper, a car bumper is not there to be bumped. It is there protect a car's more valuable assets and but its collision with anything around the car is best avoided, unless it is a bumper car. This is however not the case with a boat's bumper, which are designed to be crushed and squashed. They are made of tough but malleable materials that absorb shock and are sized subject to the size and weight of vessel they are protecting. A skipper docking their vessel should therefore not be afraid of using their buffer to help them into a tight parking spot.
The Benefits of Mooring
Moorings are large permanent anchors located away from the harbour. They are especially useful for inexperienced dockers because their relative ease of access relieves many of the stresses of docking.
A mooring is defined with a large buoy attached to a heavy line or chain below. To moor a skipper will pick up a small float attached to the buoy and secure it to the boat's hook.
Watch Out for Tides
Whenever tying up a boat in a mooring, and working out the length of dock line, always bear in mind the drop between high and low tide, as it can vary from between a few inches to more than 40 foot. If a boat is not correctly tied up at a mooring with a large drop then it might end up swinging mid-air when the tide goes out.
Essential Tips for Learning
Practice makes perfect. Manoeuvring in and out of a spot can not be mastered straight away but should be practised until it is.
Always make a note of the wind and current state when approaching or leaving a dock.
Always inform all crew on-board of the decided docking plan.
Don't forget to consider tides when tying up a boat for the night.
Bumpers should be used for what they are intended, and not carefully preserved.
You might also like...