Mooring and Storing Your Boat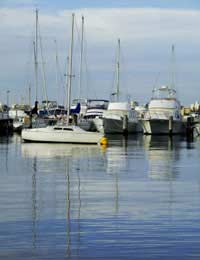 Even the most fanatical cruiser will have to rest up at some point whether it's fully serviced marina or just a quiet spot on a towpath. One of the key priorities for any prospective boat owner should be where amongst the hundreds of mooring sites across the UK it will be stored.
Where to Store and Moor
The larger the vessel the more thought and expense is needed for storage considerations. Small dinghies, canoes and kayaks can be taken home in a car trailer and stored in a garage. However larger boats will usually need to find a residence away from their owner's watchful eye, in marinas, harbours, boatyards or swinging moorings.
Marinas and harbours provide the best equipped locations for a boat. They usually provide deep water throughout the day and access via a jetty, and may also offer a variety of useful facilities such as toilets and showers, parking, a café and 24 hour security. Swinging moorings occupy sheltered waters such as rivers, estuaries and harbours, and are where the boat is attached to a buoy that is in turn fixed to a heavy sinker lying on the river or sea bed. It is therefore usual to use a small craft such as an inflatable tender to reach the vessel. A boatyard is usually used by people wanting to store their boat for the winter or who want to refit or repair their boat while it is not on the water.
The main navigation authorities – British Waterways and the Environment Agency – have bank-side moorings available across the country. These include many by its river locks and all along the towpaths on canals. With large sailboats it is common to leave the boat at a mooring away from a dock, thereby avoiding the handling problems of docking in a tight spot. A dinghy is then used to travel back and forth to the boat from the shore.
Association of Waterways Cruising Clubs
Membership of a cruising club under the representation of the Association of Waterways Cruising Clubs (AWCC) enables boaters travelling outside of their locale to apply for temporary moorings at any one of its 100 plus cruising clubs across the UK. This system has attracted over 6000 boat owners because it not only provides a strong sense of community and frequently cheaper moorings, but gives cruisers travelling to unfamiliar surroundings the peace of mind of leaving their craft on a secure club mooring.
Availability and Cost
Moorings are generally priced according to boat type, size and location desirability – London, for instance, often attracts waiting lists. When on the move and looking for overnight stopping places, canal towpaths provide moorings free of charge. Rivers also offer free moorings along its banks but there some, such as the Thames, that might ask for a fee.
Swinging moorings offer one of the cheapest long-term options but their price varies according to their year round accessibility. A mooring in tidal waters may mean the boat is left high and dry for certain periods of the year. A 'Mud Berth', for example, is where the tide will go out and leave the boat resting in the mud until the tide returns, thereby restricting its usage. All States of Tide moorings means the boat will be afloat and accessible all of the time and therefore this attracts a higher price.
Mooring in a marina can vary in price in accordance with the facilities on offer, the popularity and whether it is the summer or winter season. Prices for a monthly berth usually range from £20 to £80 per metre, whilst daily visitor prices are around two to four pounds per metre. There are also additional charges for storage ashore, and moving and lifting the boat, which varies according to its size.
Waterways licence
In order to be issued with a waterways licence it is usually necessary to have a permanent mooring secured. British Waterways does however have special guidelines for boaters who live on board and cruise the canals and rivers non-stop, never staying at the same place for more than a fortnight.
Boats will on average spend most of their lives in moorings separated from their owners and so it is therefore important that whilst they wait for their next adventure, they are given all the safety, security and homely comforts that they deserve.
You might also like...