Insuring Your Boat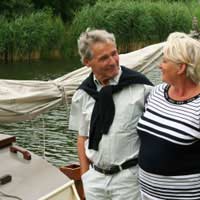 In an ever intensifying age of claim culture with people seeking pay outs in any manner of situations, the importance of securing proper insurance for a boat is more important than ever.
Insurance on a boat is similar to that for a car. There is not only coverage for the boat, but for its passengers and other craft, property and persons damaged by the boat. Often boat insurance is cheaper that car insurance but as with vechiles it will vary according to the age and type of boat.
Third party insurance will need be in place for at least £2,000,000 if boating in the UK. This will safeguard the owner or person in charge of the boat from claims made against them for injury or damage.
Policy types
The type of coverage needed will depend on what the boat is being used for. For example a powerboat racer will require a different policy than someone who cruises round the coastline in a yacht. A good insurer should always cater for specific needs. There are usually several different policy types to choose from including Third Party Liability, Comprehensive Cover, New-For-Old Cover, Racing Risks, Policy Excess and Laid Up Period.
Third Party Liability will cover boat owners for any damages that they are not liable for, such as other vessels or property. It will also cover injuries to others including loss of life. Comprehensive Cover will usually cover all accidental damage, fire, theft and vandalism but is subject to varying policy conditions.
The basic premise of New-for-Old Cover is that any item that is damaged will be replaced with a new one. However this within this policy there will likely be age limit clauses where the broker will instead pay out the market value of the item.
Racing Risks cover is necessary for those boaters wanting to enter their craft in races. In competitions the greater concentration of boats travelling at higher speeds means a greater risk of damage. It is worth checking whether this is included as part of a standard comprehensive cover.
Policy Excess means the owner will have to pay X amount of any claim, subject to agreement and Laid Up Period refers to the policies where it is stipulated that a vessel is laid up ashore at certain times of the year.
Homeowner's policy
It is possible to have a boat insured under a homeowner's policy, but this will often not cover specific risks such as running aground or wreck removal. Claims can also be limited to 10% of the value of a home. If already an existing customer of an insurance company for house or car, it may be worth enquiring as whether special all-inclusive deal can be arranged.
Going abroad
It is important to check the territorial limits of any vessel cover before undertaking any trip abroad. Many European countries will ask for evidence of insurance cover and may require a translation which your insurer should provide.
If the boat owner is considering trips beyond British coastal waters then it is recommended that they discuss an appropriate policy with their insurance company as most are restrictive on cruising range. Most companies cover Europe travel for a premium but a policy for further a field may require some investigation.
Which insurance company to choose
For impartial advice on which of the many insurance companies to choose it is always wise make friends and fellow sailors the first port of call. Other aspects worth considering include whether the company is a familiar, and therefore more likely to be reputable, company name and whether it specifically caters for boat insurance. Many regular high street insurers are able to arrange boat insurance, but may not have the expertise to offer correct advice. It is wise to register with a firm based in the UK so that access to UK Law and competition is available if a problem should occur with a policy.
Making a Claim
Claims should be submitted as soon as possible after an accident. Claimants will be expected to provide at least one estimate for the repairs or a written quote for the replacement repairs, or the insurers may even insist on inspecting the vessel themselves.
Accidents on the water can happen to anyone, however careful or experienced they are, and so rather than face the financial consequences, it is better to put the mind at rest and find the right boat insurance.
You might also like...