Freighter Cruising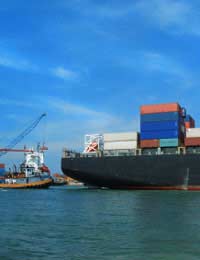 Freighter cruising is a great way to experience the romance and adventure of life aboard ship on the open seas without having to resort to holiday cruise pampering or the hard graft of being cargo crew.
No-Frills Cruise Option
If you want to stretch out and experience life on the ocean wave but would prefer the more traditional sea faring thrills and lulls of a working ship to frippery and finery of the holiday cruise - then how about freighter cruising? Many cargo ships are now offering their few spare cabins to private travellers who want to tag along for a freighter voyage.
Perks of Working Travel
Without the cabaret shows, beauty salons, fitness centres and cocktail lounges of your average cruise liner, how can you possibly keep your self amused for the weeks spent rolling the waves of the vast, desolate ocean, with little in the way of entertainment beyond what you can conjure up yourself?
The lack of distractions is part of the appeal. Those of a fidgety disposition, don't like the company of their own thoughts, or who need to be constantly plugged in to their mobile phones, RSS feeds or social networking sites to remain fully-functioning will find more punishment than joy in freighter cruising. If on the other hand, you would welcome respite from the modern indulgences of onshore life that penetrate even tropical island getaways, then cruising with cargo is a relaxing back-to-basics vacation bar none.
What's more it is also an enriching experience as you gain a fascinating first-hand insight into the immense mechanics of the world's maritime trade network and on a personal level, learn about the working people whose lives are spent away at sea for months at a time. For some the fascination is found beyond the decks observing the ocean and its wildlife.
The Roots of Freighter Cruising
Although now it may seem a rather eccentric way to travel, up until the 1960s long-haul travel was largely on board ship and sharing a voyage with cargo was commonplace. The romance and excitement of exploring the world via exotic foreign ports proved a major draw to the intrepid travellers of yesteryear.
With the 60s however, came the dawn of mass tourism and the emergence of large passenger jet aircraft and these effectively signalled the death knell of passenger shipping lines. No longer would travelling by a liner be a rational means for a passenger to reach an intercontinental destination.
Shipping lines, as a result, began to focus on either solely transporting cargo or on indulging those seeking a luxury holiday on water.
Specialist Holidays
The two are now starting to cross paths once again. As freighter ships have become increasingly automated over the last two decades, fewer crew members are now needed on board and so shipping companies have found themselves left with vacant cabin space.
Specialist travel agencies have convinced many to allow them to market these cabins on their behalf to a whole new generation attracted to what is now seen as an exciting new experience. Only this time the journey is now as important as the destination.
Freighter cruising is now such a booming little industry that it is said that some cargo ships are again being designed with passenger accommodation in mind.
Cost Effective Cruising?
Although freighter passengers have little of the comforts of holiday cruisers and effectively travel in second class behind the ship's cargo, it is not as cheap as one might expect.
After all ferrying a few hardy adventurers is hardly a lucrative enterprise when you are transporting a fortune in cargo and forking out vast sums on fuel. Travellers offer little more benefit to the shipping lines than a minor distraction for a crew spending half their life in maritime monotony.
At roughly £70 per day per person, freighter travel ultimately works out to be more expensive than flying. The price does at least include your food and accommodation though.
Where Do Freighters Cruise?
Unlike cruise ships, the routes of freighters are determined not by sights and sunshine, but by trading channels. Your embarkation and disembarkation points are therefore dictated by whether a particular port imports and exports goods.
They also need to be far enough apart. Freighters don't allow you to treat them like ferries, hopping on and off at any port that takes your fancy. You typically have to book for a long trip – whether it's a long single passage or a round trip - which can be a period of weeks or even months.
Trips can be anything from journeys down into the Mediterranean, to across the Atlantic and Pacific oceans and if you've got several months to spare, even around the world.
You might also like...
The idea of freighter travel has always intrigued me. I had a brochure which outlined many routes and their prices for many years and would look at it off and on. I'd like to replace it and see what's coming along for the next while. I'd also like to talk to someone like me, someone who's done a freighter voyage I was raised on the ocean, near my father's marina, and so I saw the huge freighters, the little tugs, the excitement of the seamen. It's a different way of like.
Penny
- 28-Aug-12 @ 6:18 PM