Camping Skiff Holidays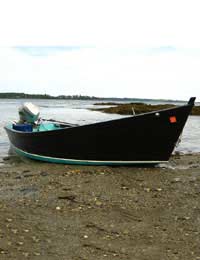 If you are seeking an activity holiday that is more relaxing and fun than hair-raising and exhausting, then do as the Victorians did and indulge in a camping skiff holiday.
Messing About on the River
In an age where activity holidays have become synonymous with all things extreme – extreme thrills, extreme locations, extreme terror - there's something reassuringly easy-going about spending a few days "messing about on the river" on a camping skiff - an adventure holiday where the fun comes naturally rather than pre-arranged.
If the idea conjures up images of three men blundering up the bucolic Thames in a small rowing boat then that's no accident, as camping skiff holidays are meant hark back to that more innocent bygone age when Jerome K Jerome made his legendary literary jaunt. In fact many decide to hire a camping skiff with the intention of recreating the trip from Kingston to Oxford that he famously undertook in the 1880s with two pals and a dog.
Much like the book 'Three Men in a Boat', camping skiff holidays offer good-natured escapism from the distractions of the modern world. Furthermore, for a weekend, a week or longer, it's an agreeably leisurely way to explore Thames life, absorbing its picturesque towns and rolling countryside.
The Camping Skiff
The skiffs are wooden rowing boats peculiar to the River Thames of the Victorian era. Around 24 feet in length, they were built with ease of handling and efficient travelling in mind. As such they are easy to master and those wishing to explore as much of the Thames as they can should be able to cover between 12 and 20 miles a day.
Besides day travel, the camping skiff functions much like a primitive waterborne camper van. The skiff has a series of four iron hoops arcing across its width. When night falls, or the rains come, an accompanying roll of green canvas awning can be unrolled over the hoops, turning the vessel into a floating tent that can keep three people snug when moored up for the night, or dry if one decides to soldier on through the rain.
Water Friendly Accommodation
As a native of the water, the camping skiff is better suited to the rain than its shore bound cousin. Its berth remains unaffected by a rain shower, whereas the shore camper must face the struggle of having to pitch their tent somewhere in amongst the mud and puddles.
Also, unlike camping on land, skiff camping is not nearly as restrictive on where you can and can't bed down for the night. The Thames' tow path runs along approximately 90% of the river and you can tie-up almost anywhere alongside the path. What's more if you decide to moor up for the night in Henley, Wargrave or Marlow, for example, then you're only a few strides away from a cosy pub or restaurant. Tent campers, on the other hand, are rarely so conveniently situated.
When you do decide to turn in for the night, with skiff camping you have the added novelty of being gently rocked to sleep by the gently lapping waters.
Camping is not an obligation of course. There is nothing to stop you sneaking off to a comfortable B&B for the night if your creaky limbs prove reluctant to bed down in the skiff. Nevertheless for the full experience it would be shame if you wimped out altogether.
You might also like...