Introduction to Sailing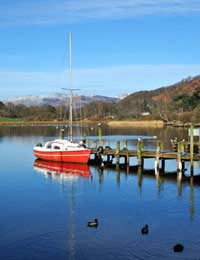 Sailing has chartered a crucial course through thousands of years of civilisation and although recent times have seen the arrival of more efficient forms of transport, it nevertheless still enjoys a wide popularity as a recreational pursuit across the world.
Sailing attracts so many people to the seas, rivers and lakes of the UK because it can be both a fast, exciting and demanding sport or a tranquil, relaxing pastime suitable for families and those seeking an escape from the hectic modern world. With the rising costs of fuel and increasing concerns over environmental damage, sailing is also being rediscovered as an eco-friendly pursuit that will keep your conscience clear.
Yachting and Dinghy Sailing
Whilst there are many different types of recreational sailing vessels, they can be broadly divided up into the larger yachts, which contain facilities for extended voyages and smaller 'daysailers' such as dinghies and skiffs.
Yachting is for those who want to explore the seas and oceans of the world in a large vessel as part of a crew. Dinghies, on the other hand, are designed for solo or small group daytime activity on lakes and coastal waters. They also offer a more simple and cost-effective introduction to sailing and one that will provide the core skills for all wind-based activities.
A dinghy is an open, single-mast boat which is balanced by the bodyweight of the crew against the wind force from the sails. They come in a wide variety of designs from small, stable vessels for novice and sedate sailors to lightweight high-speed crafts for more experienced crews.
Learning to Sail
With professional guidance it is relatively easy to pick up the basic sailing skills in a few hours and be cruising across the water within a week. The first steps should be taken through a sailing club or a commercial sailing school offering Royal Yachting Association (RYA) approved courses. A sailing course in the UK can cost anything from £50 for 2 days for a local dinghy course to £200 for 2 days with accommodation for a yachting crew course.
For those wary about beginning their sailing experience in the unpredictable and sometimes inclement weather of British waterways then holiday sailing is proving to be a popular alternative. There are many companies across the internet offering summer holidays with sailing lessons in the calm warm waters of the Mediterranean or Caribbean included.
Clubs
Most sailors are members of a sailing club. For a regular fee a typical organisation will offer boat storage, rescue cover, racing events, changing facilities and a social scene, where members can share advice and experiences with novice sailors or seasoned seafarers.
There are a wide variety of sailing clubs to choose from and considering the UK is well supplied with lakes and coastal waters, there is likely to be one within easy driving distance. The annual fees can range from £50 to £200 depending on how comprehensive the club's facilities are.
Buying a Craft
Sailing is often considered to be an expensive pursuit because of the high prices of yachts, but that is not necessarily the case. A first-time sailor can pick up a modestly priced dinghy from the UK's lively second-hand market, where a good standard boat can be bought for under a £1,000. In addition it is worth remembering the wind and the water come free!
When purchasing a craft it is important to consider one's sailing ability, fitness and how keen you are spending time in the water, righting the boat after it tips over. As a rule the faster the boat, the more fun it is to sail but the greater the risk of capsizing. Most people find that it is better at least begin with a slow boat and move on when they feel that they want a greater challenge.
For the larger, more expensive yachting vessels it is recommended that novice sailors first acquire experience on another boat before taking the plunge and buying their own. Sailing club notice boards and internet forums feature skippers looking for crew members for evenings and weekend sailing.
Sailing is a hobby for all ages, shapes and sizes with the only requirement being the ability to swim and a love of the great outdoors. With professional instruction it is easy to learn the basics in an afternoon but nevertheless difficult to master and therefore offers a lifetime of challenges and rewards.
You might also like...