Trailer Sailing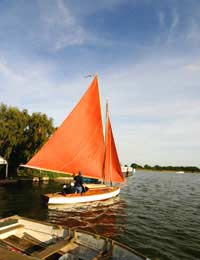 Trailer sailing not only offers the freedom of the open wave but the freedoms of the highway, allowing sailors to take their precious vessels overseas or back to the comforts of home.
What is Trailer Sailing?
Trailer sailing refers to sailboat recreation where the craft can be conveniently towed to and from the waterways with a typical family car and accompanying trailer. Trailer sailing therefore occupies the modest, affordable and hobbyist end of the often quite exclusive and expensive pursuit of sailing.
A typical trailer sailboat is a yacht large enough to be used for weekend or extended sailing with some onboard overnight accommodation, but small enough to be towed by a motorcar.
Advantages of Trailer Sailing
(1) Freedom
With both a car and a boat at their disposal, trailer sailors are able to travel across both land and sea, giving them an enviable freedom to journey wherever takes their fancy. This means exciting new sailing locations are opened up - ones which might be too far away for water-bound sailors to explore.
Trailer sailing is in many ways the caravanning of the maritime world, allowing its participants to get up and go whenever and wherever they choose, and then return home with their travelling craft when the holiday comes to an end.
(2) Cost Efficiency
Sailing is already an expensive pastime, and its trailer faction largely relieves the often sizable costs of mooring and storage. Instead of paying for a yacht's seaside accommodation, trailer sailing allows people to store their precious vessel wherever they like on dry land, including on their own property.
(3) Yacht Preservation
Trailer sailing also allows yacht owners to preserve their costly investments from negative effects of marine life, the weather and even the water itself.
Marine organisms such as weeds and barnacles are allowed less chance to grow on the hull and wreak maintenance havoc with trailer sailboats because they spend much of their lifespan out of the water. This dry land storage also allows owners to shelter their vessels from adverse effects of the weather, which can be particularly ruinous during the winter months.
Even the water itself is responsible for a boat's deterioration, with salt water being particularly harmful. 'Osmosis' damage to the hull is generated when a boat stays in the water. The main way of treating its ill effects is to lift the boat out of the water and allow it to dry out.
For many larger vessels this is too costly and time consuming a process to even consider, but for trailer sailboats it is the inevitable conclusion to every voyage, when a boat is driven home and blown dry on route. This is the main reason why trailer sailboats can often remain in excellent condition for many years whilst their water-bound cousins begin to disintegrate.
Disadvantages of Trailer Sailing
(1) Limits on Boat Size
Choosing the right sailboat can be stressful task in itself but trailer sailing adds further complications. The physical size of the vessel becomes crucially important. If the boat is too tall there may be problems with low-lying obstacles such as trees and bridges on route, if it is too wide or too heavy it may not be legal to tow and if it is too long then it could be difficult to manoeuvre.
(2) Time Consuming Launch
When a sailboat is moored in a marina it is pretty much all ready for the open water. A trailer sailboat however arrives at the waterside in a packaged, road journeying state with, for instance, the mast needing to be stepped and rigging secured.
The trailer sailboat will also need to be launched into the water, a process that introduces a list of considerations about the launching facilities of the local area.
Such questions include whether the area is subject to problematic tidal variations, whether the ramp is lengthy enough to launch longer boats without submerging the trailer, whether there is ample vertical height above the launch site for mast clearance and also how easy is the boat to get on and off the trailer.
(3) Trailer Maintenance
Trailer sailing may reduce the maintenance requirements of the vessel but it introduces the issue of trailer maintenance. Trailers require regular attention, with particular notice given to the maintenance of the tyres, wheel bearings, suspension and electrical components.
You might also like...