What Experiences and Skills for Transatlantic Sailing?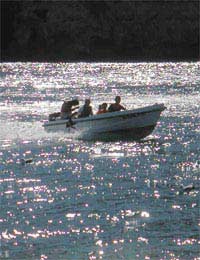 Q.
I want to buy a medium to large motor-boat. I have no idea what licences or skills I need to acquire beforehand, e.g. for being able to go transatlantic. Please can you advise me?
(I.G, 23 February 2009)

A.
Beginner's Motorboat Course
Although it is not necessary to undergo training before taking a motorboat out onto the water, if you plan to spend long periods on the water then I would strongly recommend you begin your maritime adventures by signing up for a beginner's motorboat course.
This will not only teach you the key basic skippering skills – such as handling, anchoring, mooring, rules of the water and safety procedures – but also increase your confidence, and by doing so enhance your enjoyment.
In the UK most boating schools, academies and clubs run Royal Yachting Association (RYA) approved courses, which are widely regarded as the best in the world. Their Helmsman course is the ideal place for you to start. It's a two day course geared towards new owners of motor cruisers that comprises a series of practical courses complemented by specialist short courses.
Higher Levels of Motorboat Training
If you only plan to use your motorboat to sail around familiar local waters during the daytime then the Helmsman is all you need. However, if you are harbouring ambitions to traverse the Atlantic Ocean then you will require a much higher level of training and experience.
Once you've completed the Helmsman course and put your new found knowledge into good practice, you then need to follow it up with the RYA's Day Skipper course, before finally undertaking their Coastal Skipper course.
In the Day Skipper, the skippering skills learnt in the Helmsman course are developed further with the aid of more advanced practical and shore based exercises in areas such as boat and engine handling, pilotage and coastal navigation. Upon completion of the programme you will be entitled to receive an International Certificate of Competence.
The Coastal Skipper is the course that will set you up for overnight adventures further afield, as this covers advanced boat handling and navigation techniques, such as meteorology and radar modules.
Motorboat Licences
With regard to what licenses you require, you will probably be pleased to learn that the rules of the water are far less restrictive than those of the road. Not only do you not have to pass the equivalent of a driving test to demonstrate your competency in a boat – although, as stated above, it is recommended that you seek basic training – but if you are only sailing around the coast or further out to sea then you don't require a licence either.
Only passage down the UK's inland waterways requires an appropriate boating licence and boat registration.
You might also like...
@pierre. All tpes of pleasure craft must be registered and licensed, including rowing boats.. A variety of different licences are available, from annual licences to visitor licences see the
Canals and Rivers Trust
for more information.
SailingAndBoating
- 17-Jul-15 @ 12:28 PM
what type o of licence if any do I need to take my 8ft rowing boatoccasionallyon the river and canal It is purely a rowing boat
pierre
- 13-Jul-15 @ 10:33 PM
More a question than a comment.I have many years of sailing experience and we are approximately 1250 miles from completing our circumnavigation.Turkey to Spain.The Turkish authorities tell me that I am not allowed to sail in the Mediterranean as I do not have a licence there for I am not competent to handle my boat.( 50 ft.sloop) Can you advise.? Many thanks, Harvey Cooper.
Guitar Man
- 6-Jul-14 @ 9:21 AM