Tall Ships and Sail Training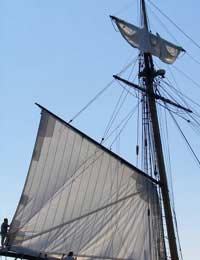 Every year thousands of young folks from all different nations, religions, cultures, and social backgrounds set sail in majestic tall ships from the golden age of sail seeking the adventure of a lifetime on the ocean wave.
What are Tall Ships?
Tall ships are large, traditionally rigged sailing vessels. Since the advent of the Tall Ships' Races sporting event in the mid-20th century, the name has become a popular 'catch all' term for sailing vessels with a more than 30ft waterline length whose design dates back to the traditional age of sail - such as topsail schooners, brigantines, brigs and barques.
Sail Training
Tall ships are typically associated with training programmes for young people, who embark on tall ship voyages as part of a crew as an immersive way of developing their seafaring skills and life experience.
Sail trainees work as a team on board - setting the sails, steering, learning how to read the weather and tides and how to navigate. However sail training is not simply about learning how to sail. The programme instead uses the sailing experience as a way to develop a participant's character and build self-esteem and forge rewarding working relationships with others. The benefits for a young crew member include:
Acquiring new skills, understanding and knowledge.
Learning to problem solve, communicate ideas and information.
Increasing self-awareness, self-confidence and sense of empowerment.
Taking responsibility for self and others, forming positive relationships with peers and supporting adults.
A successful graduate of the Tall Ships Youth Trust programme is therefore not necessarily somebody who goes on to become a sailor, but someone who moves into their adult life a more mature, rounded person with a confident outlook and a respect for others.
Tall Ships Youth Trust
The Tall Ships Youth Trust was founded on the sailing community's vision of bringing together young people from all over the world to teach them about life at sea on tall ships. When the first realisation of this dream, the first European Tall Ships Race with a crew of Royal Navy cadets in July 1956, was a storming success, an organisation to represent the ambitions of adventurous young seafarers was born.
Tall Ship Voyages
The Tall Ships Youth Trust is not only there to organise the Tall Ships Race events but also to run regular all year round voyages for the development of its young volunteers. The voyages are undertaken in one their two magnificent 60 metre square-rigged ships and cover on average around 1000 nautical miles, taking their passengers to such far flung destinations as the Azores, Canaries and even the Caribbean.
All young people between the ages of 16 and 25 are invited to join this long standing leader in youth development. No experience or sailing qualifications are required as full training will be given on board.
Award Benefits
In addition to character building and learning sailing skills, participants who spend five nights at sea as part of a voyage qualify for the residential section of the Duke of Edinburgh gold award. Voyages of 8 or more nights allow crew members to complete the Royal Yachting Association's (RYA) Competent Crew Award.
You might also like...