Motor Boating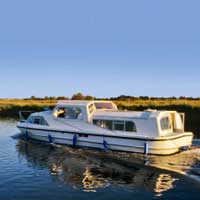 From across inland lakes, down rivers and over seas, motor boating can take you on relaxing and engaging journeys of discovery without needing to wait for the wind.
What is Motorboating?
A motorboat is a vessel that differs to a sailboat or personal watercraft by being propelled by an internal combustion engine driving a propeller or a jet. Although the term can therefore literally encompass all boats with a motor from speed boats to luxury motor yachts, the activity of motorboating is used to refer to motorised cruising vessels with low power to weight ratio that are used for general water recreation as opposed to watersports.
Types of Motorboating
Motor cruisers offer a wide range of facilities and comforts, depending on the number of passengers and the nature of the cruising. They can range from small two-person open or half-open launches equipped with the basic essentials for an afternoon's exploration to much larger group holiday crafts complete with shower, cooker and sleeping accommodation, such as the Silver Breeze luxury 12-berth.
Where to Boat
Motorboating is the perfect way to explore the wonders of Britain's rivers – the wild expanses of the Norfolk Broads, the rolling Yorkshire dales and historic city of York along the Ouse and the mix of peaceful countryside and urban cultural marvels on the River Thames.
There is no reason to limit cruising to UK waters, Ireland, Germany, France and many other European countries offer a wealth of treasures down their waterways waiting to be discovered.
How to Start
It is advisable that every first time motorboat cruiser receives some degree of training before taking to the water in motorised craft independently. As a general rule the larger the craft and the more ambitious the planned voyage, the greater the level of training recommended.
Beginners can rent simple two or four-person vessels for an afternoon from boating hire centres without needing much prior instruction. This allows novices to get to grips with basic motorboat controls, rules of the water and safety procedures before committing to a full-time course or a larger motor cruiser.
Courses are available for beginner motor cruisers that cover the basic areas of handling the boat, plotting a course, emergency procedures, understanding buoyage, berthing the boat and manoeuvring it into tight spaces.
The Royal Yachting Association offers three levels of courses for varying stages of abilities from a two-day helmsman course offering basic boat handling, helmsmanship and engine maintenance to a five-day coastal skipper course for the ambitious skipper wanting to tackle coastal passages by day and night.
Begin Motorboating on Holiday
An excellent way to start your life on the water is to combine your first course with a holiday and there are many companies offering sailing or boating activity holidays in both the UK and across the European mainland. A number of the well-known activity holiday companies are also RYA training centres and offer RYA courses with certificates.
Motorboating is ideally suited to those who want to explore rivers, lakes and seas with ease –no weeks of prior training, no having to leave behind the comforts of home and no need to get wet!
You might also like...