How to Avoid Sea Piracy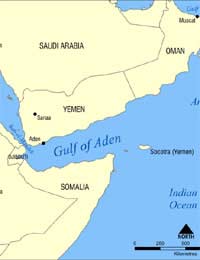 As the number of sea pirate attacks continues to increase, sailors are advised to be aware of the high-risk areas and keep a close eye on the safety status of those waters in which they are due to travel.
Gulf of Aden
The most notorious area for sea pirates in recent years is the channel off the coast of Somalia known as the Gulf of Aden. Already known locally as 'Pirate Alley', a dramatic increase in hijackings in this major shipping route between 2008 and 2009, earned it a new dubious honour, that of the most dangerous area of water in the world.
Although it is an area best well avoided by sailors at all costs, if passage must be made then it is best undertaken at least 100 nautical miles away from the coast.
Intense international naval intervention has lessened the danger of this waterway somewhat but it has only meant that, rather than be contained, the sea pirate threat has merely been spread across a wider area. As a result large swathes of the north-east Indian Ocean present a threat to sailors - including the oasis of the Seychelles – as well as from the Gulf of Aden up to the north of Bab-el-Mandeb and to the Hanesh Islands in the Red Sea.
South-East Asia
The waters around Indonesia and the Philippines, and the South China Sea are another well-established hive of piracy. In fact, although Somalia's piracy scourge dates back to the start of its civil war in 1991, piracy has been a tradition in this area for hundreds of years.
Nevertheless, this is not to say the area is out of bounds for sailors only that caution should be exercised, particularly around certain noted danger spots.
These include the Sulu Sea and Celebes Sea in the Philippines, which have long been notorious for pirates and still present a threat. Around Indonesia the Karimata Strait and the Malakka are noted hives of pirate activity, and more recently the high seas to the south of Indonesia have become a new area of peril for passing ships.
South America
Certain coastal areas of South America present potential dangers for sailors. Brazil in particular has experienced several high profile attacks of luxury yachts in recent years. The more risky areas are believed to be around the Amazon mouth and the regions of Forteleza and Santos.
For safer coastal cruising and mooring, South American's Pacific coast is a much safer option, with the Ecuadorian port of Guayaquil being one of the very few sources of pirate activity.
Although piracy is largely concentrated in the areas referred to above, it could in theory happen anywhere and so it pays to always be vigilant and prepared.
Always Seek Up-To-Date Info
Although there are many parts of the globe with long-standing piracy problems, such as the waters off the coast of Somalia and those surrounding Indonesia and the Philippines, there are also areas where the situation is less assured and can change quickly – whether from good to bad or bad to good. It is therefore always advisable to seek up-to-date local advice on any areas in which you plan to travel.
Of course, if you can't cope with the stress of having to monitor pirate activity when deciding where to travel then for carefree sailing stay within the bounds of Europe.
You might also like...