Sailing and Boating Equipment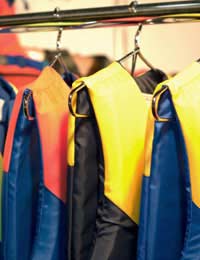 There is wide variety of equipment available for all boat types and all needs and wants from mooring hooks, compasses and navigation tools to cooking utensils and union jack flags. A good standard of equipment can make all the difference to the quality and safety of the boating experience.
Basic essentials
The key essentials for any sailing activity are some good waterproofs, warm clothing, a buoyancy aid, sensible footwear and some sun block.
Footwear
The constant close proximity to water means that there is always a danger of slippery surfaces on any vessel, and so it is important to wear the correct footwear. Standard non-marking deck shoes are recommended for any boater, particularly if involved in an active role on board. Waterproof boots are particularly useful for the more water lashed pursuits such as sailing.
Waterproofs
Waterproof clothing is important because once being wet it can be difficult to get dry on board a vessel. They can also protect the wearer against loss of body heat and potential wind chills. The water proof cagoule, or the 'cag', is a particularly valued hard wearing item and recommended for all but the hottest conditions. It is especially shaped to allow the wearer free access for active pursuits and is elasticated to help seal out water. If involved in powerboating, white water or sea kayaking, or any other activity where there is high likelihood of falling in the water, then a wetsuit would also prove a sound investment.
Personal Floatation Devices
A floatation device should be worn for any boating activity, regardless of swimming ability of the boater. These come in two main forms – buoyancy aids and life-jackets.
A buoyancy aid is designed to keep the user afloat whilst they engage in a lively sporting activity whereas a life-jacket is an emergency device intended to save its wearer from drowning. Its buoyancy distribution is sufficient to turn the user to a position where their mouth is clear of the water regardless of whether they are conscious or not.
A buoyancy aid is more popular with the more active boating pursuits such as dinghy sailing and kayaking because it does not inhibit free movement as much as a life-jacket. However, if thrown into the water they provide far less turning capacity and floatation, and are therefore not suitable for new swimmers or children.
Where can the kit be bought?
There is a wide variety of boating retail outlets both in the high street and on the internet. A full top of the range kit could cost several hundred pounds but there are ways to reduce these costs, including buying second hand or from a fellow boater.
Drinking water and food
Every eventuality out on the open water should be catered for by not only taking along drinking water on any trip but by keeping an emergency supply on board. High protein, non-perishable food items will also come in very useful in the event of being temporarily stranded at sea.
Essential and Useful Equipment for the Vessel
Commercial vessels, including hire boats and training boats are required to maintain designated equipment checklist. Boat owners can use this as a guideline to what equipment they should keep on board their vessel.
In addition to life-jackets standard safety equipment should include life-raft, life-buoys, distress flares, a first aid kit and for the larger vessels, a throwable floatation device such as a life ring. The boat should also carry oars or paddles, a bucket to bail out water, a bridle and towing line.
For more ambitious cruising beyond coastal waters it is recommended that the vessel carries charts and publications relating the boating area as well as plotting equipment such as a compass. Marine radio, Global Positioning Systems (GPS) and an echo sounder are also essential for the larger boating craft heading out to sea. An echo sounder is a device that detects objects under the water by means of reflected sound waves.
GPS
GPS is a satellite-based navigation system that provides accurate 3D locational data, thereby not only telling the user where they are but also how to get to where they are going. GPS is becoming increasingly popular not just for car drivers but for boaters too, particularly if they are taking their vessel out to sea. The newer and more sophisticated boats often feature a fixed on board GPS but hand held devices are now available for smaller craft.
Preparation is the key to a successful and worry-free cruise, and that means making that the boat and its passengers are well prepared with the proper clothing and equipment.
You might also like...