Motorboating Courses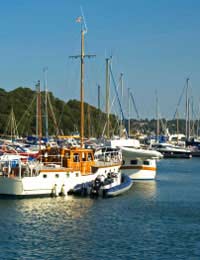 Motorboating courses offer beginners, novices and the more experienced the opportunity to expand their knowledge further and achieve high levels of seamanship and navigation.For most motor cruising holidays prior course training, although certainly beneficial, is not a necessity for helming a craft independently. However it is highly recommended that those buying their own motor cruiser and spending long periods on the water undergo a degree of training to increase their knowledge and confidence, and enhance their boating enjoyment.
RYA approved courses
In the UK most schools, academies and clubs run Royal Yachting Association-approved courses, widely regarded as the best in the world, who believe that a system of voluntary education is more likely to achieve higher standards of safety than official legislation controlling and regulating boating.
The programme comprises a series of practical courses complemented by specialist short courses such as navigation. The programme can be entered at any level, provided the trainee already has the sufficient level of experience. Courses undertaken at all RYA recognised training centres are headed by experienced, qualified instructors on board a boat with a maximum of five students.
Motor cruising courses
The RYA's motor cruising courses provide a progressive programme of practical and theoretical training. Its three main courses are Helmsman, Day Skipper and Coastal Skipper.The Helmsman course is a two day handling course that is ideal for beginners. It includes such key basic skills as anchoring, man overboard, mooring, securing to a buoy as well as theory topics such as safety and rules of the water.
For those with a little more experience the Day Skipper course is aimed at those looking to develop their skippering skills with some practical and shore based courses such as boat and engine handling, pilotage and a little coastal navigation. Completion of this course automatically entitles the holder to an International Certificate of Competence.
Novice skippers who want to helms vessels travelling further a field and at night are recommended to take the Coastal Skipper course. This includes advanced boat handling and navigational techniques, such meteorology and radar modules.
Powerboating courses
There is a similarly progressive programme of Powerboating courses aimed at people who use small open powerboats, such as sportsboats, RIBs, dories and launches, for either work or recreation. There are four self-explanatorily titled courses – Level 1, Level 2, Intermediate and Advanced.
The Level 1 Powerboat course is an ideal introductory one day programme covering basic boat handling, launching, safety and theory. Children as young as eight can take part in this.The second level is a two day course that provides the basis of the International Certificate of Competence. This includes collision regulations, high speed manoeuvres, man overboard and close quarters handling.
The RYA Intermediate Powerboat course deals with subjects like practical use of navigation and coastal passage planning by day. The subsequent advanced stage develops these skills by introducing night settings and more demanding conditions.
Certificates of Competence and Other Qualifications
For those serious about their motor cruising and powerboating, and want to charter craft abroad, the courses include preparation and assessment for the RYA/MCA Certificates of Competence, which are recognised by maritime authorities worldwide. For those looking to pursue a career on the waves, most training centres will also provide practical preparation for the the RYA/MCA Yacht master and Coastal Skipper exams. Holidaying on a motorboat is a good way to get a feel for helming a motor cruiser but a specialised course will take that experience to a higher and more rewarding level.
You might also like...
Hi i am also very interested in getting a boat license in English please give me som information on how and where to apply many thanks.
Geco
- 25-Jan-18 @ 9:29 PM
I wish to start my boat driving intention in the Malaysian Borneo State of Sabah. Seeking advice!
Chu
- 5-Jul-16 @ 12:41 AM
Hi, my partner is Italian and he owns a boat in Italy. Also he has a licence which he completed in Italy. I wish to have a chance to be in "charge" as a captain, too :) therefore I am thinking to do a licence because I don't want to break an italian law. It is a small motor boat, I estimate around 7m long. What kind of licence would you recommend me to undertake and also would it be valid in Italy ? Many thanks
Michi
- 17-Jan-16 @ 6:33 PM
@Cata. If you want to run boating courses for people in this country, it will certainly be easier if you can speak the language but do not let that put you off trying.
SailingAndBoating
- 21-May-15 @ 2:40 PM
i am from romania and i am resident in UK London and i need to make course for beginners and i want to know if i can do that in diferent languages because my english it's not so good.thank you!
Cata
- 19-May-15 @ 12:17 PM
I am staying in South Africa (Johannesburg). I am working in West Africa and is very difficult for me to get a boat license because i dont have enough time to apply when i get home. Is it possible to get a license threw the internet? and what do i need to do?
Wors
- 29-Oct-14 @ 10:55 AM