Ferrying Around the Greek Islands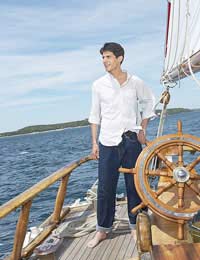 Greek island hopping is a fun and relaxing holiday as long as you're not a traveller that likes their trips to follow rigorously planned itineraries.
Freedom and Spontaneity
Island hopping is a joyous way to experience the dramatic scenery, azure seas, and brilliant white villages of the Greek islands. But it is not an adventure for those who like to carefully map out their holidays in advance with detailed itineraries. Faced with Greek ferries renowned for erratic time keeping, unreliable timetables, and cancellations, best-laid plans can quickly fall to bits.
Such unreliability has helped cultivate a holiday culture where freedom and spontaneity are the essence. Rather than be stuck in one hotel in one particular place, the frequent ferry links and wide availability of decent priced rooms mean that if you fancy a change of scenery one morning you can up sticks and hop on the ferry for the next island down the line, which is rarely more than a couple of hours away.
This doesn't mean that you should begin your holiday without any idea of what to do and where to go but just not be so rigid in your plans. A certain amount of basic pre-planning is essential. You need to first decide your departure and return point and then have an idea of the islands you'd like to visit.
Choosing Your Destinations
Your choice of destinations must factor in the peculiarities of a ferry network that is geared towards locals travelling to and from Athens and not tourists wanting to hop around different islands – a practicality that does at least mean the system is active all year round and not just during high season.
In practice this means ferries run from Athens down 'chains' that call at a succession of islands before heading back to base – usually the Athens' ferry hub of Piraeus – after around 24 or 48-hours.
Although the system has become more complicated due to the introduction of high-speed ferries and catamarans, in general it advisable to choose target islands that are linked up in a common ferry chain.
Paros, Naxos, Ios, Santorini all line up together in the most popular chain, for instance, and allow side trips to nearby spots such as the small Cycladian islands. The disadvantage to the chain system is that if you then want to hop over to islands on a neighbouring chain then it can prove difficult without first returning to Athens.
The Athens-centric system has made the Greek capital the most popular embarkation point for island hopping holidays, although the presence of international airports on a number of islands - including Rhodes, Crete and Skiathos – do allow a variety of alternative starting points.
Timetables
Such island hopping would benefit considerably from a comprehensive and reliable printed ferry timetable, but one has yet to be compiled and finding accurate route information on the ground can be difficult. The closest to one is the 'Greek Travel Pages', which is available to browse at ticket agents in Greece. A tourist friendly version, 'Greek Travel Routes', is more readily available but its info tends to go out of date very quickly. An online version is available at www.gtpnet.com.
Information is harder to come by on the islands themselves beyond what the departures are for that particular island. If you are concerned about the lack of reliable information then it is best to stick to the most popular routes – which in summer are plentiful - and bear in mind that all routes lead to Athens.
A valuable back-up source of information for any traveller can be found in the 'Greek Island Hopping' guidebook, which features typical timetables, itinerary maps for ferries and ferry frequency route maps for the major islands and ports.
Tickets
Just as there isn't a universal ferry timetable there isn't a universal booking system for Greek ferries either. Fortunately it is relatively straightforward procedure as the departures out of Athens are dominated by a few large operators who offer their own timetables and online booking facilities. Agencies sell tickets on the waterfront of most ports but it is unusual to find one that sells tickets for every boat.
Although fares are no longer fixed by the government they are still controlled and remain relatively low. Companies can now charge different fares for the same basic "deck" ticket (tickets are available in 'deck', 'tourist' and 'luxury') according to the age and speed of the boat.
With that in mind the traditional ferries that are over 10 years old are the cheapest option. More modern regular ferries are usually 20 per cent faster and command a similar jump in fare price. The high-speed ferries and catamarans, which are twice as fast as the old ferries, cost double the regular ferry fare.
You might also like...