Dinghy Racing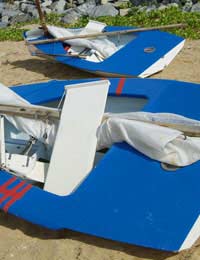 With the UK being the home of one of the world's most vibrant and varied dinghy racing scenes and proving increasingly popular with both amateur and Olympic sailors, there's never been a better time to take part in the sport.
Dinghy racing is an exciting and competitive sport that appeals to the fit, tactical and speedy. It takes place on inland waters and out on coastal water in over a 100 different classes of dinghy of all shapes and sizes. The sport is governed by the International Sailing Federation (ISAF), who maintain the international rules of sailing, and within the UK it is regulated by the Royal Yachting Association (RYA).
Dinghy Types
Designs vary from stable, small and slow craft for novice sailors to lightweight, high-speed designs that are very difficult for even the most experienced crews to sail safely. For top speed dinghy racing, catamarans and the Olympic class of racing dinghy such as the Lympic 49er or the Laser 5000 are best suited. For those more interested in tactical racing, the smaller and lighter vessels such as the Laser class are more popular.
Racing Classes
Most races and regattas are organised according to the class of dinghy and within which there are such subdivisions such as masters, ladies, and juniors.
Single or Multiple-Handed Dinghies
Races are often grouped by how many sailors operate the craft. Contests are mostly aimed at single-handed vessels such as the RS Vareo or the Laser or double-handed dinghies, such as the Flying Junior, Tasar, Heron or the 470. There are also some classes specialising in larger craft such as the Lightning or the Australian-style skiff dinghies.
One-Design or Development Classes
A one-design racing class is where all competitors use exactly the same type of craft, so that no vessel has an unfair advantage over another. This means that the competition is more concerned with sailing ability and less about who can afford the latest design innovations. One-design categories include such popular vessels as the Laser, the Europe and the 505.
A variation of the one-design class is the development class, which is not solely dictated by the manufacturers' specifications but instead can be created or modified within a restrictive set of specific guidelines, thereby still keeping the boats closely competitive. Examples within this class include the International Moth, the Merlin Rocket and the Cherub.
Handicap events
A handicap event is a race involving a mixed fleet of competitors, from different boat classes to different ages and abilities but where each competitor is handicapped accordingly, thereby allowing every boat an equal chance of winning. This system allows sailors of any age to be competitive from children as young as ten to adults pushing into their seventies.
How to Start
Dinghy races are usually organised through a sailing club, so it is advisable to join a local club that has a suitably lively programme of racing events.
Many clubs provide novice races so that beginner racers can compete with similar abilities and not be disheartened by competing against seasoned dinghy racers. Nevertheless those sailors apprehensive about entering a race without any experience should first complete an introductory course.
RYA Dinghy Start Racing Course
RYA have devised a course especially for sailors familiar with the basics of sailing and want to up the ante and take part in club racing events. The course is taught at sailing clubs and centres across the UK and gives students the confidence, skills and knowledge to speed off the starting line and compete in club racing. Tutors will instruct such subjects as to how to maximise boat speed and how to outwit opponents.
Dinghy racing not only provides the thrills of competitive sport but it also can greatly improve a sailor's boat handling and general sailing skills, and many experienced racers believe the best way to estimate a sailor's skills is to compare them to their competitors.
You might also like...